Let's work together to help Syrian Refugees
settle into their new home!
The need is great and no help too small.
The Well on Bayview is joining One Free World International and other NGOs and Non-Profits in this effort. We are opening our facility where donation items may be dropped off - for later pick up by Refugee families.
Thank you everyone!
Your response has been phenomenal!
Thanks to everyone who generously brought items! The response has been phenomenal! To make more room, we even moved all the pews and chairs to the sides of the sanctuary, turning both floors of the building into a depot for the new Canadians!
We had a chance to welcome the Refugees in their own language (Arabic and Armenian), to pray with them, and we provided them with much needed items to help establish them in their new home.

CTV News and CBC News dropped in to cover the story. This resulted in even more people responding, calling and dropping off more items!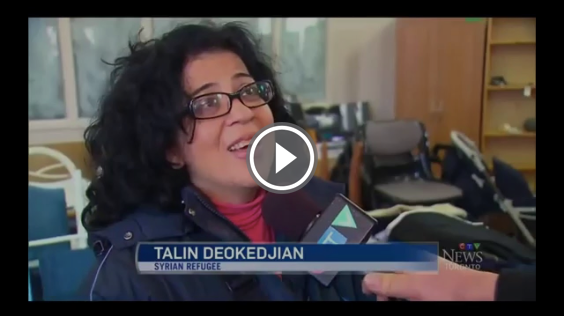 CTV News at Noon Toronto for Monday, January 4, 2016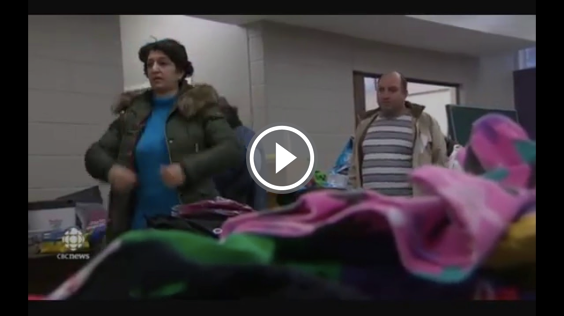 CBC News Toronto at 6:00 - January 04, 2016
Drop off and Pick up Dates
---
Donors drop off:
Tuesday, December 22, 2015
6:00pm to 8:00pm
Wednesday, December 23, 2015
10:00am to 2:00pm
Monday, December 28, 2015
10:00am to 2:00pm
NEW DATES for Donors to drop off:
Wednesday, January 6, 2016
11:00am to 5:00pm
Thursday, January 7, 2016
2:00pm to 4:00pm
Refugees pick up - NOTE DATE CHANGE:
Monday, January 4, 2016
10:00am to 2:00pm
Tuesday, January 5, 2016
10:00am to 2:00pm
NEW DATES for Refugees to pick up:
Friday, January 8, 2016
11:00am to 1:00pm
Drop off and Pick up address:
2537 Bayview Avenue, Toronto, ON M2L 1B1 - Map
---
List of needed items - new or in good condition
Bedrooms:
Beds, Bedframes, Mattresses, Bed Sheets, Blankets, Cribs, etc...
Living / Dining Rooms:
Tables, Chairs, Sofas, TVs, etc...
Bathrooms:
Towels, Floor Mats, Shower Curtains, etc...
Kitchens:
Kitchen & Cooking Utensils, Pots, Pans, Dishes, Toasters, Toaster Ovens, Microwaves, Coffee Maker, Cups, Flatware,etc...
Clothing:

We have received a lot more clothing than we can handle


Coats, Boots, Sweaters, Gloves, Hats, Scarves, etc... (all sizes)
Transportation:
TTC Tokens or TTC Pass
Other:
Professional Services you may be able to provide such as Dental, Optical, Glasses, etc...

You may also donate financially
---
The Well on Bayview
is the Joint ministry of
Armenian Emmanuel Church of the Nazarene
&
Toronto Church of the Living God.
Our heart is to express the love of God in Christ
by working in Unity,
in order to see our communities transformed, one life at a time
through the power of the Holy Spirit.
We invite you to join us


Sunday at 11am


as we experience the Presence of God
in community through vibrant worship and biblical reflection
- Children can take part in an exciting program designed just for them -
We also hold other gatherings designed to
help us live out our spiritual journey together:
Please contact us for details
We are located on Bayview, just south of York Mills